Better Directors, Better Boards, Better Bussiness
Plunkett's vision: Combining modern business practice with sound ethical values.
Providing the strategic vision and governance skills to a new generation of Co-op Directors.
Opening doors for future
Co-operative business leaders.
The Plunkett Institute builds on the leadership provided by past generations to develop the skills of future farm business leaders.
Farmers need to learn and develop the skills to provide sound and effective governance to their Co-operatives.
From the Farm to the Boardroom, helping Irish farmers to develop their skills as Directors of leading Agri-Co-operatives.
The Plunkett Institute for Co-operative Governance is dedicated to the establishment and promotion of best practice in Co-operative Governance in Ireland.
ICOS, ICOS Skillnet and the Plunkett Institute deliver comprehensive executive and director training programmes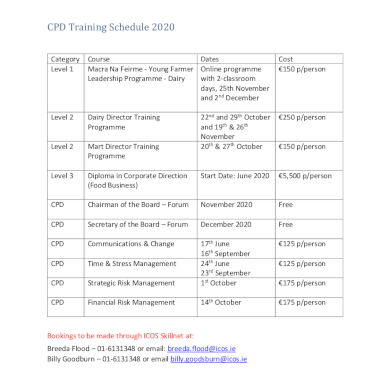 Membership of the Plunkett Institute is open to members of ICOS Agricultural Co-operatives
There are several membership categories to recognise the levels of experience and training which applicants have attained.
Farmers; do you want to learn more about your co-op? Do you want to contribute to the leadership and decision making for yourself and your neighbours? Do you want to develop your skills and experience as a strategic thinker? Download the Application form here.
---